Venice Limousine Services: Port of Venice and Terminal Cruise Ship transfer:
Venice Limousine Company offers to its customers transfers to and from the port of Venice.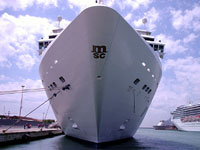 Generally for guests who need to check in before boarding the ship, terminals 103 and 107 are available, instead for those who land from the cruise the reference terminals are 107, 108 and 109. The number of the terminal depends on the cruise company they travel with.
We reporte the following Venice Port Map with Marittima Area, San Basilio Area and Santa Marta Area. Download this map, in it you will find a lot of details: Terminal Cruise Gate Numbers with its position inside the Venice Port Area, Luggale Area, Meeting Points, Water Taxi Arrival/Departure Point and main ways (Visit also the complete Venice Cruises Dock Terminals Calendar).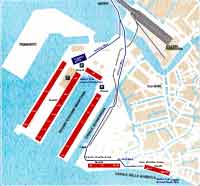 Costa cruise company normally leaves from terminals 107, 108 and 109 whereas the other companies leave from the opposite bank.
The central area of the port of venice has the form of a big "U".
Entering the port you will get to the base of this "U" where you will find the terminal 103.
On the right side there are the terminals 107, 108 and 109; on the left side there is the bank for
the international cruises (Princess, Holland, Insigna..).